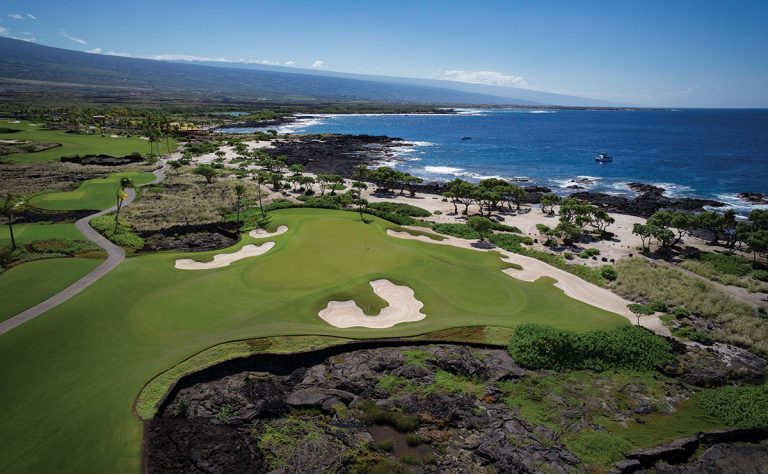 See full article here.
It's hard to imagine a more perfect place to golf than Hawaii. Perhaps the most desired vacation destination in America, its diverse islands offer pristine beaches, arresting views, and warm temperatures year round. For those very reasons, it is home to a multitude of unbelievable golf resorts and private courses. The following is a selection of some of the absolute best on two of its most popular islands, Hawai'i and Maui. Each of these are first-class, and each course featured contains details like organic lava flow layouts, oceanic surroundings, and design by some of the biggest names in golf. So let us help you plan that next unforgettable golf adventure deep in the heart of paradise.
Kohanaiki
We now move from Maui to Hawaii's titular "Big Island." Laid out through ancient lava flows, the breathtaking, Rees Jones-designed, 18-hole, Kohanaiki course winds over 100 acres along a mile-and-a-half of picturesque Pacific coastline. Located near Kailua-Kona, Kohanaiki was built to perfectly blend into the sparkling waters and hardened lava that envelop it and was certified by the Audubon International Silver Signature Program for its environmental efforts to preserve the land it gracefully inhabits. The centerpiece of the beautiful Kohanaiki luxury home community, this course offers an experience like no other. It's a Par 72 that can play up to 7,329 yards and serves up unique challenges and views at every hole. Those interested in buying into the one-of-kind Kohanaiki residential community should consult one of the top brokers on the Big Island, Joni Metzler at (808) 640-6832.